A Little R&R
You know what? My leggies feel pretty darn good Monday and Tuesday. My ankle was a little annoyed Monday, but I threw on some compression for half a shift at work, and took it off for the second half and was ache-free.
For recovery this weeekend, I did throw on my
2XU compression sockies
for a few hours after I got home and I elevated my legs for over a half hour each day. I did use a TENS unit on my leggies Sunday evening, and I think that really helped my achy legs recover quickly. I will have to try another big mileage weekend and use the unit again to see if it helped. The TENS unit was a $20 craigslist cheapie the BF found for me. I don't know about you, but I can't afford
$600-$1000 for a fancy Compex
unlike some other people. Either way, electricity is electricity.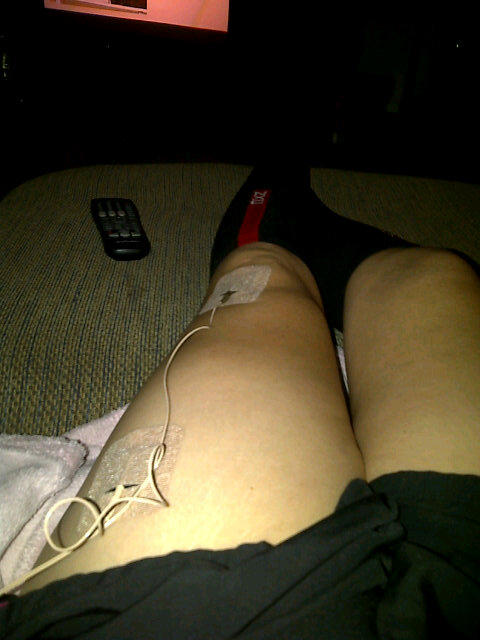 I now know I have bigger mileage in me and two days of 13+miles each proves that I am capable of higher mileage then what I have been accomplishing. Back to back long runs are not as scary now that I know that I can do it.
Anyways, the BF's kids were sick a week and a half ago, and the BF caught their cold and has been kinda sick for about a week with Saturday being his sickest day. I took a few days of echinacea last week and was confident that I was not gonna catch any little bug that it seems everyone has. Washed my hands like some crazed meth-addict, disinfected my keys and cell phone, cleaned the house. No bug was gonna get me!
All that didn't work. I got the bug Monday. Sneezing, coughing, running nose, bad sore throat. I guess the stress from the races lowered my immunity just enough to let some bug in. Today is a sick day from work to rest up. Rest and relaxation for a few hours. If I have to go to the DR this week, I will. I don't think I will be getting a 5K PR this weekend as I was hoping to run hard on.
I did manage the energy to drive to the store for ingredients for my magic soup. This is my go to recipe for whenever I wanna kick some bug.
I modified it from here years ago when this came out in the magazine.
Today's batch is without chicken (didn't feel like cooking or buying any), 4 cups of water, 2-49oz cans of chicken broth, a huge chunk of ginger and 2 heads of garlic (yes, it is a little strong, but good), 1 yellow onion, a couple handfuls of carrots, a whole bunch of celery, and pepper, simmered for a while. Nommed.
Have you ran a race with a head cold? What is your go to item to comfort during a cold? Have you tried electrical stimulation for sore muscles before?