2012 Running Revelations
This post is a little long. And a little sappy. But it is a review of a whole year instead of one day or one week. Plus, I want an excuse for posting a whole lot of pictures of myself and gloating about my year. ;-)
This year, 2012, was actually just my 2nd full year running. I don't ever count the "Friday Fun Runs" in High School PE. I really don't consider that running because it was so traumatizing. ;-)
In 2010 I forced (yes, forced) my BF & his son to run the
Boise Main Street Mile
. They both did about 7:30min/mi without any training. I was kinda jealous that I was not a runner and did not race. It was a very memorable experience for us. And memorable for the BF because he was traumatized by the whole experience. ;-) Feel free to ask him how horrible getting a prostate exam and then running one mile without running the month prior is.
For 2011, I made the New Years Resolution to run the Seattle Marathon. And so, I did. My first race ever that year was a 10K. I was not traumatized by the marathon experience because I continued to run after this marathon.
So freaking proud
2012 I did not follow any training plan. I attempted one in the summer, but kinda gave up because of the cruddy weather conditions and lack of desire of slogging on the treadmill everyday. I sort of piggybacked on my training for Seattle, where I did keep to a training plan, and tried to continue the habit of a long run, or a race, on the weekends in 2012. I kinda worked on building/maintaining a base of 10-12 miles.
Robie Creek Elevation. Base training ;-)
I rested whenever I felt like it, ate and drank whatever I wanted. I put my body into different situations, like, spending time on the trails, doing a variety of races- some with lots of elevation change, and some no elevation change at all, and running back to back half marathon races. I had my best race placements ever, 2-4th place female finishes. I am sure if I would have stuck with a training plan, my runs and races would have been faster. But no complaints.
NYD5K
Here are the 12 races I did in 2012.
YMCA New Years Day 5K Run
Jan. 1, 2012 Boise, ID- 36:37
Race Report
and
Pictures
Race To Robie Creek Half Marathon
April 21, 2012 Boise, ID - 3:11:18
Race Report
and
Pictures
Redfish Lake Lodge Memorial Run Half Marathon
May 26, 2012 Stanley, ID - 2:45:06
Race Report
and
Pictures
See Jane Run Half Marathon
June 16, 2012 Boise, ID - 2:33:52
Race Report
and Pictures
Fit For Life 10K
July 14, 2012 Boise, ID 1:07:07*
Race Report and Pictures
Foothills XC12K
Aug. 4, 2012 Boise, ID 1:39:00
Race Report and Pictures
Payette Lake Run 8.6mi
Sept. 2, 2012 McCall, ID - 1:36:44*
Race Report and Pictures
Race 2 The Summit Half Marathon
Sept. 29, 2012 Horseshoe Bend, ID- 2:50:20
Race Report
and Picture
Idaho Wine Run Half Marathon
Sept. 30, 2012 Caldwell, ID- 2:45:32
Race Report
and
Pictures
Live To Bfit 5K
Oct. 2, 2012 Boise, ID - 29:14
Race Report and Pictures
- 4th place female finisher!
City of Trees Half Marathon
Oct. 14, 2012 Boise, ID - 2:23:07*
Race Report
and Pictures
Hot Chocolate 5K
Dec. 29, 2012 Boise, ID
Race Report and Pictures - Soon!
*City of Trees Race Series -
4th Place Female
- 5:06:58
Robie Finish
I did have plans for 2 marathons in 2012, which I paid for entry, but never started for 2 different reasons. I don't feel bad about DNS on those, but they would have been very memorable if I would have participated.
Stanley finish
I felt like I got healthier as the year went on. The time I spent on my bike was easier with stronger legs. My weight never really changed as much as I had wanted it to, but I never really changed my diet a whole lot. I did add more "exotic" things like chia, coconut oil, fish oil, taking vitamins and supplements more regularly. I did slightly roll an ankle on the trail, and my knee is slightly annoyed from using a pair of shoes for too long, and I honestly think from spending too much time on the treddy, but I have stayed physically healthy. Knock on wood 2013 continues injury-free. What did change physically this year is that my quads are bigger, more musclular. My calves are about an inch smaller. I have new bags under my eyes from all the running bounce. I need to stretch more because things are tight and I have lost flexibility.
Spending time on the trail




While I have one more race to do in 2012, which I actually am taking seriously and would like a PR, it won't hurt my feelings if I don't. Well maybe it will, but I made sure that all of my races of this year were for fun first. This upcoming race is no different.
Fun first!
I never really focused on my times and splits until
after I started each race
. Whatever my body wanted to do that day, I did. And sometimes it really surprised me. Our bodies are amazing, they do amazing things. Including a 15 minute half marathon PR in Stanley, while dreadfully hungover,
not dying on the trails because someone decides to not take enough water in the heat
, and 2 back to back half marathons in a weekend for myself is amazing, our bodies are very strong and it is usually our self-talk that will put a kink in our running plans.
Idaho Wine Run




I am intensely proud of this year. Have I said that yet? I am so proud. As I am looking back at my blog posts for these pictures and race reports, the only I only feel pride and happiness. I had all sorts of emotions during the year. I teared up before, during, and after races from overwhelming pride of being in that moment. I was angry at the BF for not being at a couple of my finish lines waiting for me. I had side stitches, and muscle soreness. I had anxiety and tummy aches and butterflies. But all those feelings are gone except the pride and the happiness.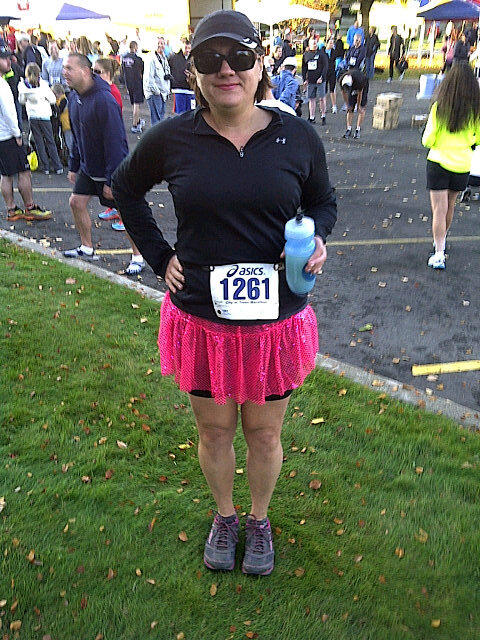 Start of COT half
As I finish this year, I have big plans for 2013. You know, that
April 50K
I post quite a bit about. I expect a PR with a
10K
in February with the way my training times have been playing out. I am actually considering doing Bay To Breakers or maybe even a couple of marathons next year. It has taken me 2 years of running to really get into running. Running where it becomes a habit, where it has become an addiction, always consuming obsession of my thoughts, where I dread it on some days, but I have to do it, I want to do it, played around with wanting a career involving it. There have been workouts and training sessions where I did give up early, like cutting a mile or two training runs short, but in the long term, I never, ever gave up running.
Payette Lake Run




I guess as I end this year reflecting on things I accomplished, things I should change, things I won't or can't change, things I know I would/wouldn't change if I were to do some things differently. I am pleased with all of my goals and challenges that I put myself through. The challenges with running are never ending and I am curious as to what I can accomplish with enough time, money and effort applied. I learned a lot about running and blogging this year. I am so glad to have become part of the FitApproach #SweatPink, GirlsGoneSporty, and FitFluential ambassadorships. There are other ambassadorships and sponsorships that I would like to be part of in the 2013 year. Of course, I am keeping some of those desires close to my vest. But I have put the vibes out there into the universe.
A run across Idaho in the future for me?
I am not skinny, I am not fast, I am kind of a dork, but I am very self-aware of changes that have occurred this year and are hopefully in motion for this new year ahead. I am very glad you have stopped by today and throughout the year. Thank you for following me on Twitter. I hope we continue to be bloggy/twitter BFFs in the future! All of you have actually helped motivate me to really be active, eat better, take chances. I hope that I have inspired you in some way, also.
See Jane Run finish
Tell me a highlight, or more, from 2012. What are you most proud of from your year?