A lot went down this year in my running life. If you are curious how 2012 went - feel free to check out
here
.
Biggest thing is I ended a 6 year relationship with BOTH my job and personal relationship with the BF. For both of those, 2013 was time to move on. Work stress, I was SO done with. Relationship stress, well,
since this time last year
, it was evident that this wasn't gonna last much longer... Both of these affected my running. Less miles because of depression and having to spend time searching for a new job and home = less time available to run. Less miles because I started drinking more. I don't want to brag, but I drank every single day for months. I was SO unhappy of my home and work situation. I feel all of this stress peaked during the
time of my marathon
. Thankfully, I have a new job and a new boy - both of which encourages health and fitness. AND the drinking has been cut down to more acceptable levels. (Goal for 2014 is really to not drink much at all because I never was much of a drinker until I met the BF.) All in all, I trust the universe has things working out as they are meant to be.
Not ideal but it is what it is
I DID do my
first Ultra
. I am VERY proud of that accomplishment. I feel that if I can do it, you can do it too. I also feel that I can tackle any distance with training. (I still want to run something big, like across the state) I can always improve of the time, but it was an awesome experience.
While I trained for this, I completed two
26.2 training runs
. Today is the first day of registration for the 2014 race. I am thinking of
registering to do this 50K again
! I'm at 2:22 in the video below.
Somehow, I completed
13 in 1
3
. 3 half marathons, a marathon, a 50K, a 12K, 4 5K's, 2 2 milers, and one 10K. I don't think I started the year off saying I am going to run 13 races, but that's how this year worked out. I do have 2 more races to finish at the end of December - the YMCA Christmas Run and the Hot Chocolate Run 5K -
FYI Use code "runinboise" for Dec 28 Hot Chocolate Run - $5 off for the 10am 5k or the 11am 10k & $10 off the 1pm 5k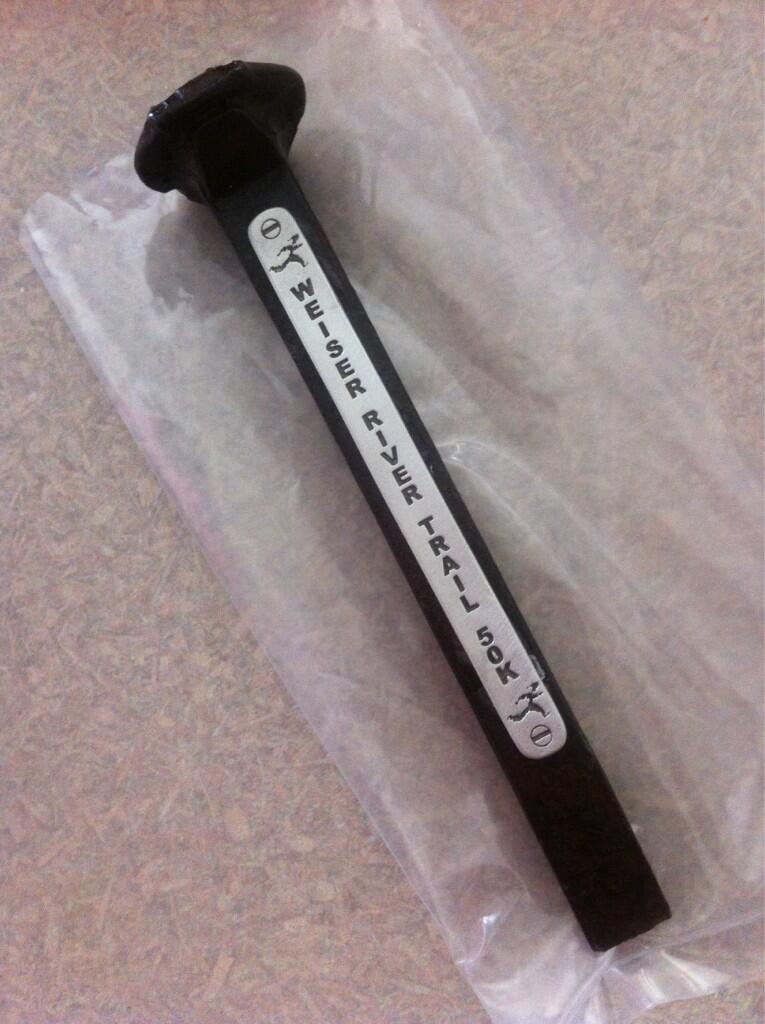 Finisher's spike from the 50K
Out of those 13 races, (technically, since I am writing this before the last 2 races, it's 11 races) I got 2 race placements! I didn't expect to, and gawd knows I'm not exactly training for speed here - but that's how this year worked out. Again, I don't feel like I can be fast, but somehow, 8 minute miles can come out of me. And that means Age Group awards.
From a beginning runner ending races desperately trying not to be last place, to getting to a point where ribbons are won, you do not know how happy this makes me.
2013 was also my first year of being part of a running team!
Team Beef Idaho
. I'll be running with Team Beef again in 2014.
This year also brought about me being nominated for
Top Athlete at the iAM Fusion Awards
!
I didn't win, there's always next year, but I was nominated and I am still pretty excited abut all of it.
So, what's in place for 2014? I don't know. I have some things planned, some goals I need to start taking more seriously. I do have plans to do a
Spartan
with the new boy. I'm already signed up for a
New Years Day 5K
. I'm thinking I am going to do a 50K again. I plan on "running" more of errands. Or at least relying less on my car and more on my bike. I'll have more details of some definite goals in another post, but right now, I am kinda just floating on.
Tell me a highlight of your year? What are some of the things that you are proud of?